Little Hog Cay Summary, Accommodations, Features & Maps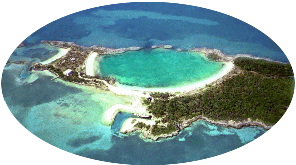 Little Hog Cay is a completely private, 20 plus acre barrier island in the Northern Bahamas
with unique, protected lagoon for swimming, three beautiful white-sand beaches and land
elevations to 30 feet. The island is located in the Hog Cays, one mile from mainland Abaco
or five minutes from the airstrip and full service marina at Spanish Cay and is centrally located
between the top four Abaco sportfishing destinations.
( Walker`s Cay, Green Turtle Cay,Treasure Cay and Marsh Harbor)
Dockage: Little Hog cay is the only private island in North Abaco with completely protected
deep-water dockage. The island is approached from the Abaco Sound carrying depths of
12 feet or more at low tide. A 90 foot channel leads to a fully- enclosed 30 by 155 slipway
with depths of 8 feet at low tide. Outside the slipway, on the Sound,a double-point Manta
Mooring System is installed. In addition, it is possible to anchor shallow-draft vessels inside
the lagoon, the entrance of which (located on the Atlantic Ocean side), carries 6 feet of draft
at low tide.
Power: Primary power is provided by a maintenance-free solar powered electrical system with
a brand- new array of 6 Kyocera 120W, 12V solar-power panels and an 820- Amp hour bank
of Rolls batteries. Additional power is supplied by a 19KW Perkins diesel generator with 275
gallons fuel storage. Power is controlled by a marine electric distrubtion panel running through a
2500W trace inverter and control system.
Layout: The 1000-foot wide lagoon, situated near the western end of the island, divides Little
Hog Cay into two seperate parcels connected by a raised gravel road. The more developed
west end is about 1.5 arces with two beautiful, 75 meter white sand beaches, the studio home,
beachfront guest cabana and power shed. The practically undeveloped east side is a forested
parcel of high hammocked, mangrove and high coral ridges, covering approximately 20 arces,
including the beautiful 220-meter East Beach of the lagoon. On this side, the island`s orginal
master home site with its own 40 by 28 foot concrete cistern/foundation overlooks the Sound,
Lagoon and slipway.
Getting to Hog Cay: By private plane to our neighbor Spanish Cay is definitely the quickest way
for a visitor to reach Hog Cay-about 15 minutes by boat. They have thier own customs man there.
Spanish Cay is privately owned by Americans and they are very good neighbors. Our guests also
fly into Treasure Cay and take a taxi to the bay opposite us and we run across and pick them up
at the road, that`s a 20 minute taxi ride then 10 minutes by boat. But, when we have no one to
pick us up, we usually take a commerical flight into Treasure Cay airport and pick up our skiff at
Green Turtle Cay--that`s 40 minutes by boat.
Accommdations & Features: The Studio Home is a modern elegant 1 bedroom / 1 bath, CBS,
studio-style home with 360-degree panaromic view of the lagoon, beaches, Abaco Sound and
Atlantic Ocean. At the entrance, a wide flight of limestone steps lead to a 30 foot, sunset-view
porch of limestone tile, surrounded by a wrap-around, multi-level deck. The 20 by 30 foot
interior features teak floors, cypress-board paneling,open-beam ceiling, hunter ceiling fans,
fireplace,marble-tiled bathroom,open kitchen with cherry-wood cabinets and marble counter
countertops. Furnishing include Anderson doors and windows, a 19 cu.ft 12V SunFrost
refigerator/freezer, gas stove,electric hot-water heater, full size electric washer and dryer, 220V
reverser-cycle air conditioning,satellite TV, 10 decible VHF antenna and telephone tower. The
house comes complete with designer furniture,appliances and housewares, and is ready for
occupancy.
The Beachfront Guest Cabana: is an 11 by 20 foot,one room, wood frame structure, great for
entertaining or camping,with a seperate bathroom and large deck facing the Lagoon.

The Stilt House: located next to the slipway on the East Side of the lagoon, is a one-room,wood
frame camp-house, about 12 by 14 feet, with one large bathroom and a wrap around balcony. It
sits about 20 feet above ground level on four pilings,and has a spectular 360-degree water view.
The Master Homesite: Near the slipway and Stilt House, the original concrete cistern / foundation
approximately 40 by 28 feet, is still in use and is an excellent building site. The site is surrounded by a
high native hammock with large trees and above the trees, has the most spectacular view of the
Sound, Lagoon and Atlantic Ocean. A short path leads through the woods to the longest and most
beautiful beach on the island.
Maps of Hog Cay:

Take control, completely private, be Master of your own Domain !!
Contact :

Richard Arnold
hogcay@aol.com and copy also to
rsarnold@pocketmail.com

Pricing :
The entire Island with the studio home, and
the beach cabana is available for six
thousand dollars per week. Protected
dockage available.